Biden To Hold Candle-Lighting Ceremony as U.S. Mourns 500,000 COVID-19 Dead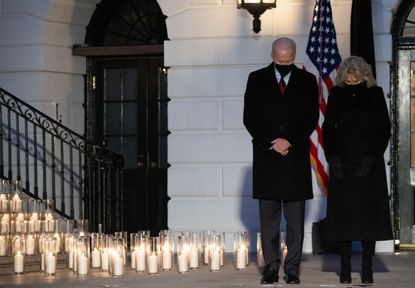 President Joe Biden and Vice President Kamala Harris acknowledged a grim milestone Monday evening, February 22 at a candlelight ceremony mourning the deaths of more than 500,000 Americans from COVID-19.
Biden and Harris, along with First Lady Jill Biden and Second Gentleman Doug Emhoff, emerged from the White House at sundown. They stood at the foot of the South Portico, amongst  500 lighted candles honoring the dead while a Marine Corps Band played "Amazing Grace."
Before the brief ceremony, Biden spoke emotionally and somberly from the , and, as he often does in moments of tragedy, spoke directly to people who have lost friends and family members during the pandemic. "I know all too well," he said, "that black hole in your chest. You feel like you're being sucked into it. The survivor's remorse. The anger. The questions of faith in your soul."
The newest 500,000 plus Covid-19 death toll puts the disease firmly among the leading causes of death in the U.S. within the last year. The United States, which has reported more Covid-19 deaths than anywhere else in the world, has indeed reached a somber day in history. The number of people dying from COVID-19 since May 10, 2020, is, on average, 50% higher than every other country in the study.