The Wombats: Fix Yourself, Not the World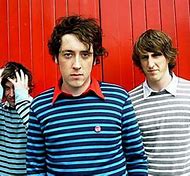 The Wombats are an English alternative/indie rock band that was started in 2003 and consists of three members: Mathew "Murph" Murphey, Tord Øverland Knudsen, and Dan Haggis. After several EPs, their debut studio album was released in 2007, A Guide to Love, Loss, and Desperation. The rest of their studio albums were released in the following order: This Modern Glitch, Glitterbug, and Beautiful People Will Ruin Your Life. Recently, on January 14th, their fifth studio album was released, Fix Yourself, Not the World.
This album was especially hard to make considering that all three members recorded from different places. Mathew "Murph" Murphey in Los Angeles, Tord Øverland Knudsen in Oslo, and Dan Haggis in London. It's the first time they recorded an album without being in the same room and that allowed them to experiment more with the sound. Murph says, "It was pure madness to be honest." Not to mention that a number of top producers worked with the band such as Jacknife Lee (One Direction), Gabe Simon (Dua Lipa), and Pual Meany (Twenty One Pilots).
Previous songs released by the band have a sound that is more noticeably adjacent to that of the early 2000s while that isn't as evident in the new album. However, it cannot be said that the band is drifting away from where they originally dropped anchor, as they are more popular now than they were during their first spark of fame. They are playing at bigger venues and those venues turn out packed.
From a certain perspective, it is a wonder that they are doing so well compared to their peers that also make music under the "indie" umbrella. This is because of the band's experience that is clear through their music. Deep thought, a lot of time, and effort was put into the making of Fix Yourself, Not the World. It was also in their favor that they didn't rise to fame as soon as they became a band or they most likely would have burned brightly but quickly. Without a doubt, it all paid off with this being their first album to reach the position of UK Number One Album.
As a whole, the album mostly consists of a fast pace that is held for the majority of the songs. It is exactly this fast pace that gets audiences excited and crowds moving, and it wasn't by chance or a lucky guess, The Wombats knew what they were doing. It is true that the flow of their songs isn't exactly "smooth" by nature, but the wonderfully delivered one-liners and transitions between each track in a song make the sound of their music all the better.
A prime example would be in "If You Ever Leave, I'm Coming with You" showing the pensive sorrow of someone trying to wake up from their constant state of gloom: "Watching myself sink into a carpet somewhere/Don't wanna end up there." Of the song, lead singer Murph comments, "I noticed that 2020 and 2021 put some serious strain on interpersonal relationships, it felt like people around me were really struggling. For me, 'If You Ever Leave, I'm Coming with You' taps into all of that and asks the question … is it the circumstances putting undue stress on people? Or have the circumstances shed light on people's incompatibility with one another?"
Fix Yourself, Not the World breaks the cycle of fast paced music with its closing song, "Fix Yourself, Then the World (Reach Beyond Your Fingers)." The song is noticeably shorter than all the others in the album with only a few lyrics that are drawled out and repeated. While most other sounds in the album come to abrupt stops, the twelfth slowly fades out and becomes quieter until completely silent. In doing so, the song is sure to grab the attention of listeners and leave a lasting impression.
While listening to Fix Yourself, Not the World many familiar topics can be heard in the lyrics. This is because the album isn't meant to change the world, it's about the world.