A Feast Fit for the President? Trump Buys Fast Food for Clemson Tigers Visit to White House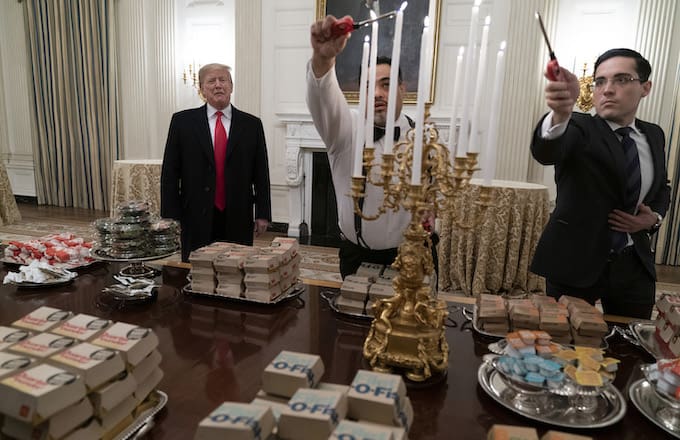 Trump served up a balanced meal of what he deems "Great American food" to the Clemson football champions early Monday. The Clemson Tigers were invited to celebrate their victory in the National Championship against Alabama Crimson Tide 44-16 at the White House; however, due to the government shut down, the employees meant to handle catering for such events were furloughed and kept anyone from preparing meals.
"I think we are going to serve McDonald's, Wendy's and Burger King's with some pizza. I really mean it," Trump stated in a press conference earlier that day, "It will be interesting. I would think that's their favorite food." One of the Clemson players could be heard in a video on Twitter admitting that "[he] thought it was a joke," but the President was far from kidding. The current POTUS presented the athletes with 1000 hamburgers (or "hamberders" as Trump named it in a tweet the next day), french fries, salads, pizza, and McNuggets. Trump topped off his promise by also providing McDonalds dipping sauces served on silver platters, stating the he had paid for the feast himself.
In light of this fast-food dinner party, many celebrities and restaurants have invited the National Champs to personal feasts; this includes, Ayesha Curry, hip-hop artist Quavo, and Nick Kokonas of restaurant "Alinea" who invites the team "to Chicago to experience what an actual celebration dinner should be." Michael Strahan, former NFL Hall of Fame player and host for "Good Morning America," has stated on air that he is more than happy to entertain the team to a day of "lobster and caviar." "Whoever can make it, we'll hook you up with lobster. Whatever you want, we're going to take care of you," stated Strahan, "We're going to give you the proper meal that you deserve because that was one great game, a great accomplishment."
About the Contributor
Jasmeen Rivera, Reporter
Jasmeen is a Senior Creative Writer at the Osceola County School for the Arts. After being on The OCSA Ledger staff for three years, with this one being...