Santa Clarita School Shooting and America's "Gun Culture"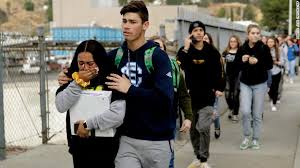 On their way to Tallahassee to introduce their "Peace Plan" this past Thursday, the March for Our Lives Club had to learn about another school shooting, this time in Santa Clarita, California.
A gunman opened fire at Saugus High School in Santa Clarita, California, on Thursday morning, killing two students and injuring three others before shooting himself. According to the Los Angeles County Sheriff's Department, the gunman, a student at the school identified as Nathaniel T. Berhow, who turned 16 on the same day, died on Friday afternoon. The police still have not identified a motive and it's unclear what the connection is between the shooter and the victims other than they attended the same school. A 16-year-old girl and a 14-year-old boy were killed and three other students were wounded and hospitalized, Los Angeles County Sheriff Alex Villanueva said.
Thursday's shooting was the fifth mass shooting at a U.S. school or school event so far this year and, overall, there have been 369 mass shootings, according to the Gun Violence Archive in 2019 as of last Sunday. More than 3,000 firearm-related deaths per year in youths aged 0-19 have occurred in recent years. Firearm violence is now one of the top leading causes of death in youth.
Unfortunately for Americans, there is no real shock anymore. Possibly a moment of visceral grief initiating determination to create change, but, every time another one happens, we revisit the same cycle of how we choose to react to it:  political debating, social media quarrels, and discussions on prevention strategies and priorities that will reduce the number of Americans affected. Because we have seen this too many times before, we choose to let our differences overwhelm the safety of the public. In other words, we have to stop pointing fingers and get to the heart of the issue so we can find real solutions.
There is no justifiable reason as to why a 16-year-old had ready access to a firearm without the immediate supervision of an adult. Yet, a study recently published by the Departments of Education and Justice highlighted how common it is for youth to carry weapons or firearms, to the extent that thousands of students choose to take them on school premises. About 1 million students show up at school carrying a firearm today. Since 2010, there have been 142 mass shootings committed by people age 17 and younger.
There is still an ongoing investigation as to who gave the student access to the firearm, but in the end, one of the issues has become more apparent: the availability of firearms.
We've seen it in many instances this year. The massacres at a Las Vegas country music concert, in churches in South Carolina and Texas, at schools and work sites scattered all across the country, but also gun-related killings in homes, in cars, and on streets.
In addition to that, there is a lot of ignorance related to how individuals are trained in responding to gun violence. A study conducted by Ball State University of principals across the nation found that almost a fifth of schools had experienced a firearm-related incident in the past five years (e.g. shootings, students carrying guns, etc.). The three major barriers cited by principals in preventing firearm violence were: lack of expertise as to which practices to implement, lack of time to spend on this issue, and lack of research as to which practices are most effective. Less than half of schools trained their personnel on firearm violence issues and clearly, school leaders are at a loss when trying to find a solution.
The gun lobby and lawmakers are quick to say that it another issue, such as mental illness. But what are the ones in office going to do about it?  Santa Clarita was another community shattered while legislators continue to sit on sensible gun legislation. The failure of leadership within the Capitol, both Democrat and Republican, to deal with issues of American public safety is ridiculous. In early August, after two mass shootings in Dayton, Ohio, and El Paso, Texas, killed 31 people, leaders were called on to immediately find a solution that could address elements of gun violence. And what happened? Absolutely nothing. Some may have issued statements censuring violence, but nobody actually came to Washington.
That is why young people across the US are doing what countless others have tried and failed to do: using strategies to take on the  gun lobby. After the horrific shooting at Marjory Stoneman Douglas High School in Florida, brave student survivors wasted no time to call out adults for failing to address the gun violence that has occurred in the United States and created the March for Our Lives Organization. On the same day as the Santa Clarita shooting, the Florida chapter of the organization attended the Rally to Tally event in an attempt to persuade legislators to adapt the Peace Plan. The Peace Plan is MFOL Florida's adaptation of MFOL's Peace Plan for a Safer America, and applies the National Peace Plan's principles of C.H.A.N.G.E.
Alyssa Ackabar, the March for Our Lives state director who attended the Rally to Tally event, expressed her remorse about the shooting. "On the day we found out about it, we were all very dismayed and sad about the news, but not necessarily shocked. Gun violence has become like a norm in our country, so we released the Peace Plan to show what needs to be done in order to combat this epidemic. It was very unfortunate that those two events occurred on the same day, but it just demonstrated and emphasized why we need a plan to end gun violence."
As the investigation continues, there are still so many unanswered questions. For what it seems, when all the information is received, the grieving will be done in Santa Clarita. Two weeks ago, it was in Long Beach, where a gunman fired at a Halloween party, killing three people and wounding nine others. Unless, we are able to step it up and ensure that this issue be resolved, nothing will change. And maybe that's the issue overall. We need to stop settling.