Did TikTok Users Predict Juice Wrld's Sudden Death?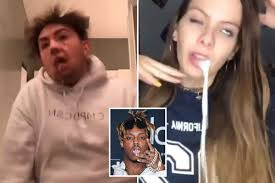 In a bizarre and now prophetic trend, fans of the now deceased Juice Wrld faked seizures to his song "Lucid Dreams" as part of a TikTok challenge.
The popular video platform allows users to create videos. The challenge, called the Lucid Dreams challenge, shows people spitting out water or other liquid, as if they were having seizures. The challenge circulated in early november, prior to Juice Wrld's death in December. The fake seizures come during the verse in which Juice sings: "I have these lucid dreams where I can't move a thing." Lucid Dreams was the breakout rap hit of 2018 and has more than 400 million views on YouTube.
It is unclear how the challenge started but it is thought to be very incongruous following the rapper's death and his opioid painkiller abuse. The track also includes the lines: "I take prescriptions to make me feel a-okay. I know it's all in my head."
One person captioned his TikTok video, "thinking about how juice wrld just died of a seizure and ya'll used lucid dreams on tiktok as a trend and danced like you were having a seizure. Maybe this should tell you something."
Several conspiracy theories developed after fans hear about the rapper's death. Fans have pointed to the TikTok challenge among several "clues" that may present other. One major conspiracy is that the rapper might have predicted the date of his own death. Based on his song, All Girls Are The Same, the rapper includes the line "Really feel like John Lennon". John Lennon is a Beatles legend who also died on December 8. In another track, Legends, Juice Wrld also predicted he would die young. He raps, "What's the 27 Club? We ain't making it past 21…They tell me Imma be a legend. I don't want that title now. Cause all the legends seem to die out."
Another major theory sweeping the internet is that the rapper might have faked his own death. Fans have also latched onto a tweet the young star posted in April 2017 saying, "My goal is to get overly famous, shine for a couple of years…then fake my death".
Fans are still shocked about the announcement of Juice Wrld's death, but as more information comes along, theories will develop as we try to uncover the truth about this sudden news.